Phoenix/Scottsdale Featured Packages
Priced per golfer/night including lodging and golf
From $105/golfer per night
From $134/golfer per night
From $105/golfer per night
From $115/golfer per night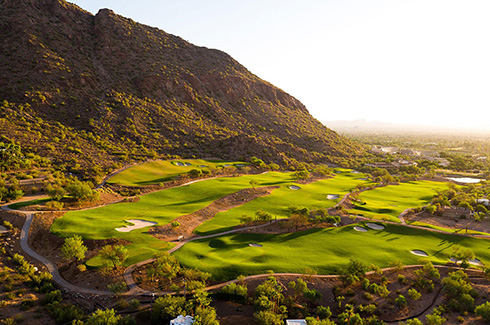 From $125/golfer per night
From $115/golfer per night
The GolfTroop Advantage
We believe golf vacation packages are one of the best ways for couples, groups of friends, and families to build lifetime memories and amazing travel experiences. We provide this by offering a lowest price guarantee on our golf packages throughout the USA. We can do this because of our long term relationships with golf courses, accommodations, and rental vehicle companies. If you only take one golf vacation per year please give us a try next time you plan or book one. We love golf, travel, and want to help you plan your next golf vacation package.
Over 150,000 rounds of golf booked
Member of International Association of Golf Tour Operators
Over 375 Five Star Google reviews
Located in Scottsdale, AZ. We play these courses often!
The Best VIP Rewards Club in the business
Shane B, Montana
James could not have done a better job for us! We played 3 great courses and stayed in an incredible house. The house was huge with 12 big screens, pool, hot tub, a golf simulator....even had an orange tree with ripe Oranges!.All at reasonable prices...but even more was the level of customer service. Quick responses, no fuss changes in plans....they even let us ship our clubs to their Office!

We were truly impressed....give em a try
3/25/20
Paul F, Boston
Our golf trip exceeded all expectations from the house to the courses we played. Jimmy was excellent to work with and was able to make a few last minute tee time changes with out a problem. We will be returning again next year.
12/18
Laird Lee, Chicago
Accommodations and golf courses exceeded our expectations. Excellent service from Vinnie. Instructions were clear and concise. No problems checking into condo and golf courses had excellent customer service. We felt like VIPs. My buddies were very impressed.
1/30/19
Todd B, St. Louis, MO
Booked a trip for Feb in AZ with GolfTroop via James Kana and it came off without a glitch. Great housing and a nice mix of different golf courses in the Scottsdale area. Will absolutely be using GolfTroop again in the future!
2/28/20
Ronald R, Indianapolis
We have gone to play golf around Phoenix/Scottsdale several times. I liked doing business with GolfTroop, my first time with them. Jimmy was super effective and his turnaround time was fast in every aspect. The condo and courses recommended were spot on for our foursome. We will be return customers. They are a great outfit!!
12/18
Justin Holtan, Minnesota
The Courses Vinnie picked for us were Superb!!! Couldn't have worked out better the last day. Playing Papago course right near the airport on the last day then fly out was fantastic!! Thank You!! Vinnie and Golftroop!
1/15/19
Read More
Arizona - Scottsdale/Phoenix

Arizona - Tucson

California - Palm Springs
GolfTroop is here to assist you throughout your vacation. From the concourse to the golf course, we've got you covered.
Pay Online
In order to make a payment you must know your Invoice #, your group leader's last name, and the amount you wish to pay.
The below button will bring you to a secure page where you can process your credit card and receive a receipt via our online payment system.
Payments will be made to GolfTroop.com and will appear as GolfTroop.com. You may also call +1(877)748-2557 during normal business hours to pay over the phone.
To make a payment for your existing golf package, enter your Invoice # and click "Pay Now":
You may pay with any VISA, MasterCard, American Express, or Discover credit/debit card through our secure payment processor.