9998 E Indian Bend Rd
Scottsdale AZ 85256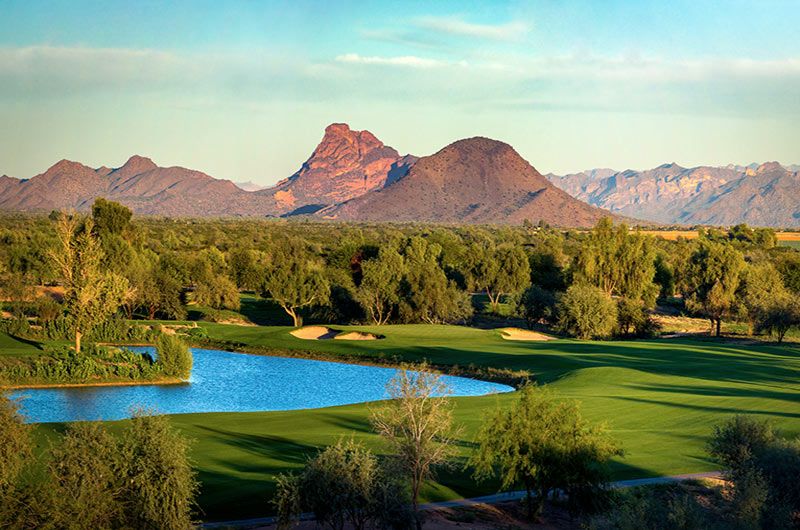 Talking Stick - O'odham/Piipaash
Price Range: Luxury
&nbsp&nbsp
Details
Bill Coore and Ben Crenshaw, together as a design team, have created the magic of Talking Stick Golf Club. Two uniquely different Arizona golf courses offer many options according to the golfer's level of playing skill. Located on and owned by the Salt River Pima-Maricopa Indian Community, the North and South courses provide a serene yet challenging day of play. "Whichever course one chooses or prefers, it was our desire to portray golf in a traditional sense, which quietly merges with its tranquil desert surroundings."
North Course: "Talking Stick's North course, with its broad, angular holes rewards thoughtful play through the rise of its many options according to one's level of skill. Its low-profile, slightly crowned greens and close-cropped approaches encourage running as well as aerial assaults." - Bill Coore & Ben Crenshaw
South Course: "The South course, with its tree-lined fairways and raised greens defended at the sides offers a more straightforward style of play." - Bill Coore & Ben Crenshaw
Greens: Tifdwarf Bermuda (Summer), Poa Trivialis (Winter)
Fairways: Tifway 419 Bermuda (Summer), Perennial Rye (Winter)
Events: Talking Stick has hosted several prominent events since its opening in January of 1998:
- PGA Tour Qualifying School 1998, 1999
- USGA Mid-Amateur Sectional Qualifier 1998, 2002 & 2005
- AGA 4-Ball Championship 1998
- National Club Championship for Women 1998
- AGA Mid-Amateur Championship 2003
- Women's USGA Publinks Qualifier 2003
- 90th Southwestern Golf Association Championship 2005
- The Gateway Tour 2002, 2003, 2004, 2005, 2006 & 2007
- Women's USGA Mid-Amateur Qualifier 2004
- Women's Trans National Senior International 4-ball 2005
- Arizona Open Section Qualifier 2006
Many More Still to Come!
GolfTroop Review
Talking Stick Golf Club is home of 36 holes of friendly resort style golf. Both courses, The O'odham and Piipaash course, are of a Coore & Crenshaw design. Settled on the Salt River Pima Maricopa Indian Reservation, you will find 2 golf courses nestled in a superb location! If you like courses with no houses, these are a great option! Both courses are a wonderful choice if you are looking for great condition golf course without travelling far! Plenty of restaurants and activities right down the road, including a casino, Top Golf, Octane Raceway, and even Indoor Skydiving! O'odham Course - This golf course sits on the north side of the club house, and is designed to be a desert links style golf course. With it's large, wide, and angled holes; this golf course can be rewarding. It's slightly crowned greens will challenge you to whether you hit a fly to the green shot, or running it up for front pin placements. The Piipaash golf course sits on the south side of the club house and driving range. A bit more straight forward than the other side, and a more cypress feel to it with it's tree lined fairways and water hazards on the back 9. It's raised greens and false fronts will challenge you, but the wide fairways and straight forwardness of the course will relax you. Definitely more of a beautiful, playable, player friendly course if you are looking to warm up before you hit the more difficult courses in the area.